TRINITIES of CONTROLLING FREE WILL
IS MAN PART of a COSMIC MACHINE?
All is in balancing cyclical change, of balances in balances. So all functions are by cause and effect. So man has no free will in this mechanistic system. But there must be a First or Uncaused Cause of all this. Somebody, "outside the watch", has to wind it up. So there must be an Ultimate Will behind the First Cause, and a free will to control it. This is verified by the principles of the Ultimate Creation: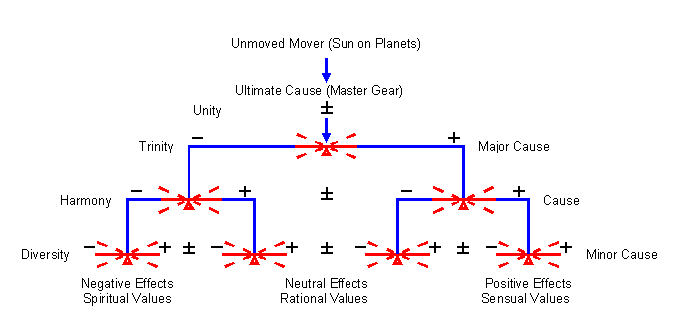 HOW is MAN PREDETERMINED, SELF-DETERMINED, SELF-DETERMINED? XBy these:

      -                      ±                      +    
PREDETERMINED  ————>  SELF-DETERMINED   ————>   DETERMINED 
Spiritual values      Rational values           Sensual values
God                   Free-willed Man           Nature
Soul                  Mind                      Body
Balance of Nature     Moderation                Authority
Fate                  Self-control              Cause-effect
Parents               Self-sacrifice            Conditioning
Drugs, Disease        Hygiene                   Society
Divine Plan           Judgement                 Social planning
Conscience            Reason                    Senses
Birth                 Self-discipline           Environment

HOW IS FREE WILL AND FREEDOM RELATIVE TO SOCIAL RANGES? XLike this: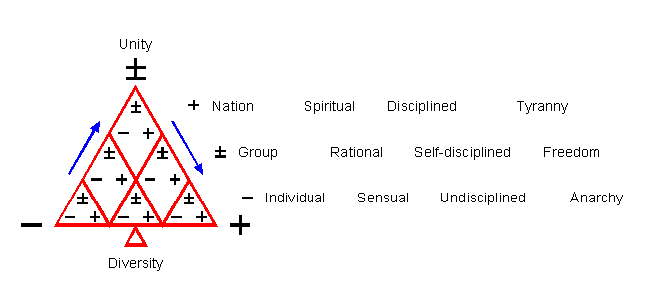 -                  ±                         +                    0    
MANKIND  ————————>  GROUP     ————————>     INDIVIDUAL  — — — —>  ANARCHY
Morals              Ethics                  Hedonism              Emotism
Spiritual Freedom   Rational Freedom        Sensual Freedom       No-value
Autocracy           Republic                Democracy             Nihilism
Unity               Harmony                 Diversity             Chaos
Religious           Political               Social                Criminal
Reactionary         Moderate                Radical               Zealot
Care for all        Care for some           Care for few          Care for none
Altruism            Idealism                Ambition              Self-survival
High class          Middle-class            Low class             No class

HOW IS FREE WILL CONTROLLED THRU THE MIND?
The rational mind is the basis for free-willed judgements and self-controlling moderation of conflicts between spiritual-sensual extremes, It prevents going beyond limits of moderation to no-valued occultism-mysticism that denies humanistic free-willed self-control.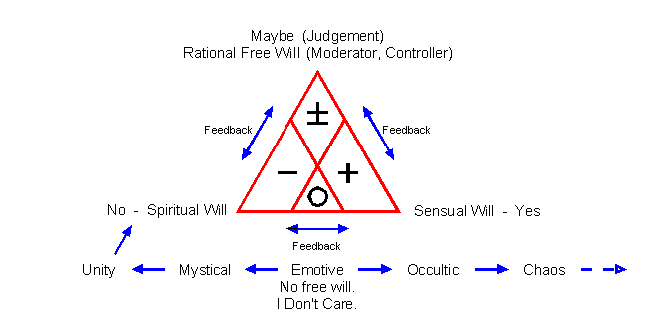 WHAT IS THE BASIS OF FREE WILL? XFrom, by and thru:

      -                       ±                      +                       0    
SPIRITUAL WILL  ———>  RATIONAL FREE WILL  ———>  SENSUAL WILL   — —>   EMOTIVE NO-WILL
Morals                Ethics                    Hedonism              Emotism
Predetermined         Self-determined           Determined            Fated 
Subconscious          Conscious                 Pre-conscious         Unconscious
Conscience            Reason                    Senses                Non-rational
Soul                  Mind                      Body                  Instinct

HOW IS FREE WILL CONTROLLED? XBetween the spirit-mind-body:

      -                       ±                      +                       0    
SPIRITUAL WILL  ———>  RATIONAL FREE WILL  ———>  SENSUAL WILL   — —>   EMOTIVE NO-WILL
Go inward             Go in-out                 Go outward            Trance
Believe               Learn                     Experience            Impulse
Pray                  Think                     Observe               Feel
Stop                  Caution                   Go                    Reckless 
Inhibit               Self-control              Exhibit               Extreme 
Self-sacrifice        Self-realize              Self-express          Self-reject
Solitude              Group                     Crowd                 Cult

WHAT BEHAVIOR DOES IT MAKE? XPer dominant will:

      -                       ±                      +                       0    
SPIRITUAL WILL  ———>  RATIONAL FREE WILL  ———>  SENSUAL WILL   — —>   EMOTIVE NO-WILL
Faithful              Hopeful                   Faithless             Hopeless 
Anti-sensual          Tolerant                  Anti-spiritual        Intolerant 
Reactionary           Moderate                  Radical               Extremist 
Introvertic           Ambivertic                Extrovertic           Apathetic
Character             Personality               Popularity            No identity
Disciplined           Self-disciplined          Undisciplined         No-discipline

WHAT DOES FREE WILL AFFECT? XPer dominant will:

      -                       ±                      +                       0    
SPIRITUAL WILL  ———>  RATIONAL FREE WILL  ———>  SENSUAL WILL   — —>   EMOTIVE NO-WILL
Duties                Self-responsibilities     Rights                No responsibility
Unity                 Harmony                   Diversity             Disharmony 
Altruism              Idealism                  Realism               Primitivism 
Fear of God           Fear of Law               Fear of nothing       Fear all
Religion              Philosophy                Psychology            Mystic-Occult
Self-respect          Self-improvement          Self-pleasure         Self-rejection
Security              Leisure                   Pleasure              No goals
Self-denial           Self-perfection           Self-indulgence       Self-contempt